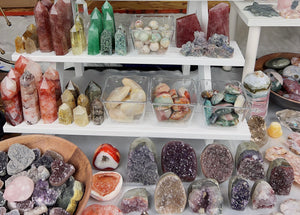 Our Crystal Mystery Boxes are filled with intuitively picked assortment of Crystals and Gemstones.
You select the size of the mystery box you wish to purchase and we will create the box based on the value you paid.
Feel free to let me know in notes before checkout if you have any preferences on crystal type, or size (I will do my best to fulfill request but do not always have certain things in stock).
Please note that bigger crystals are only included in higher priced box. Each box is unique, making it a mystery!
Each box will include different crystals of various sizes and shapes such as towers, spheres, palm stones, moons, hearts, raw pieces, tumbled stones, free forms, clusters, and more! These boxes are perfect for growing your collection, as a gift, or just a fun surprise to look forward too.
✨ Mystery Crystals Box with free shipping on orders above $150.
✨ Our Mystery crystal boxes are great for gifting. Either it is a gift for her or a thank you gift , it is an economical way of gifting more metaphysical crystals.
✨ Note : All Mystery Boxes are final sale.
NOTE: Please note that natural product may have small imperfections and blemishes which we cannot control. We do our best to capture them in the photo, but they may not show up properly. Please contact us prior to your purchase if you require more pictures. Please note, these are natural crystals with lots of rough tips, edges, and surfaces. Please only purchase them if you accept it as is.